Newsletters
Progress to December 2016
Details
Since the launch on the 1st of July the Chulmleigh Co-responders have responded to approximately 30 calls. The calls attended were classified as 11 Amber, 15 Red & 4 Purple calls. The AED has been deployed 4 times. Following the recent change in the ambulance call categorisation regime the Chulmleigh Co-responders have been busier, and have responded to approximately 15 calls in November.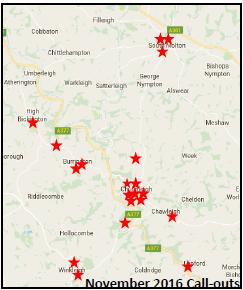 Bill Williams DSFR's lead responder officer will be changing his post on 12 December, we thank him for his support and encouragement and wish him well in his new role. We look forward to working with Rowan Delasalle who will be taking over.
Chulmleigh Generosity
Details
'Thank you' to the staff and customers of Chulmleigh Bakery for the contribution of £24.97 from your DART collection box.
The running total from the Chulmleigh collection boxes is a stunning £406.92, which will pay for the first 20 call-outs.
Harvest Festival Auction raises £2100
Details
The Harvest Festival Auction on 26th October at the Old Court House raised £2100 for DART.
Chulmleigh co-responder vehicle dedicated to Eileen
Details
Chulmleigh's new co-responder vehicle has been named 'Eileen Dolling,' after the town crier who recently retired after more than 20 years' service.
Eileen was present at the unveiling of the new vehicle at the Pavilion in Chulmleigh and was delighted that the 4x4 had been named in her honour.
Read more: Chulmleigh co-responder vehicle dedicated to Eileen